Category: News

Blade Runner 2049 han won the Saturn Award as Best Science Fiction Film. Congrats to Cast & Crew!

Ryan Gosling, Donald Glover and Ezra Miller are all on the short list to star in Warner Bros' new 'Willy Wonka' film. The film is said to be a prequel and will focus on the origin story of Willy Wonka (via @Collider)
Warner Bros. is moving ahead with their Willy Wonka reboot and they've got some very interesting, big names on their shortlist for the lead role. We reported back in February that Paddington director Paul King had been tapped to helm the project for the studio. Now it appears as though they're in the casting phase and are putting together a list of potential candidates to fill the very big shoes once filled by the legendary Gene Wilder. It looks like Ryan Gosling, Ezra Miller and Donald Glover at all on the shortlist.
According to a new report, the trio of actors are in the mix to play a young Willy Wonka in what is expected to be a prequel set prior to the events of the classic Willy Wonka and the Chocolate Factory. We previously reported that there were rumors suggesting that Ryan Gosling was actively pursuing the role and it appears as though that may have worked, to some degree. At the very least, he's being considered and that makes a great deal of sense. He's partnered with Warner Bros. plenty in the past on projects like Blade Runner 2049 and The Nice Guys. From his point of view he hasn't really tackled a family-friendly project such as this, so it represents a new challenge.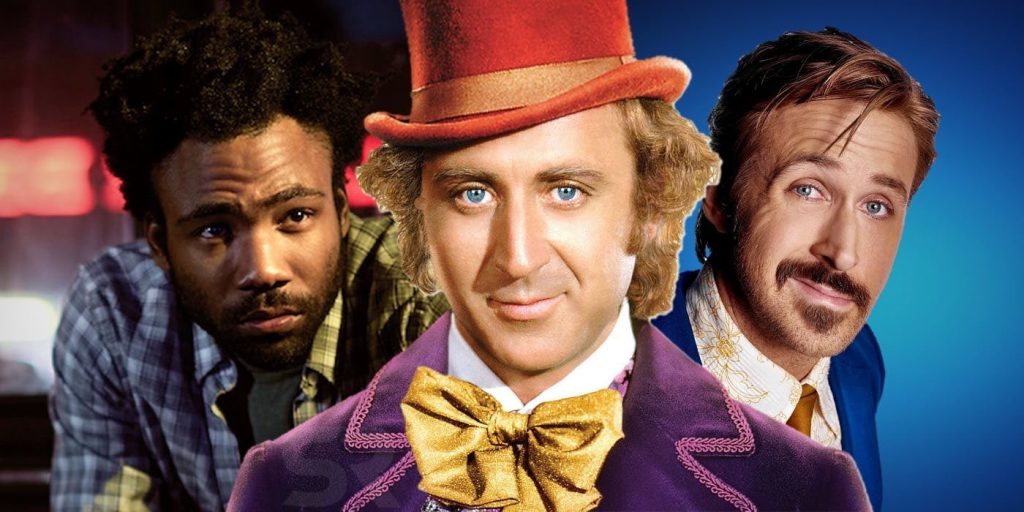 Donald Glover is the standout in this list. He's an entertainer that literally everyone seems to want to work with right now, and with good reason. The man is a rare talent. He's a massively successful musician, actor, writer and producer. It also would certainly be taking the character in a very different direction, but if anyone has the charisma to pull something like this off, it's Glover. Once he finishes filming the live-action take on The Lion King for Disney, he's pretty free as far as movie commitments go, but he's got Atlanta on FX and his music to worry about.
Then there's Ezra Miller. Since this new movie comes from producer David Heyman and is set up at Warner Bros., this name makes a great deal of sense. Miller currently stars as The Flash in the DC movies and is featured in the Fantastic Beasts movies. Heyman produced the Harry Potter movies and is working on Fantastic Beasts as well. If he somehow winds up with the part, that would be three potentially huge franchises resting on the young actor's shoulders.
Simon Rich (Man Seeking Woman) is penning the screenplay for this new take on the book by Roald Dahl. The last time we saw the material brought to the big screen was in 2005's Charlie and the Chocolate Factory, which saw Johnny Depp as Wonka and was helmed by Tim Burton. The reception to that take wasn't all that warm, but Warner Bros. is clearly going for something very different this time around. The Willy Wonka reboot does not yet have a release date. This news comes to us courtesy of Collider.
We'll see what is going to happen … have you ever watched the original movie … personally I grew up with it and I love Gene Wilder. Here's a sneak peak of the original movie:
Finally here's the 1st First Man Official HD Trailer released 
Ryan Gosling is headed to space.
The first trailer for his next movie, "First Man," debuted Friday night during "Jimmy Kimmel Live!," showing Ryan as the first man to set foot on the moon, Neil Armstrong. It's Damien Chazelle's follow-up to "La La Land," which scored both him and Gosling Oscars.
The trailer, in addition to giving the first glimpse of Gosling as Armstrong, also showed Claire Foy as his concerned wife, Janet. "This isn't just another trip, Neil," she tells her husband at one point. "You're not just going to work."
Indeed, the trailer focuses mostly on the dangers surrounding the risky Apollo 11 spaceflight. Neil Armstrong faces questions from politicians, and is even asked by his son, "Do you think you're coming back?"
"First Man" debuted its first footage to theater owners at CinemaCon in April. There, Chazelle promised exhibitors that audiences would not only be taken on an "immersive journey," going with Armstrong and his crew as they took their first steps on the moon, but to give a look at Neil and Janet's difficult marriage.
In addition to Gosling and Foy, "First Man" also stars Pablo Schreiber, Kyle Chandler, and Jason Clarke. It's set to fly into theaters on Oct. 12
Here's a preview of Ryan Gosling's Arrival to Jimmy Kimmel Live Studio in L.A. ' @ El Captain' Theatre, to record the interview that it's going to be aired tonight Friday June 8, 2018 on ABC at 8e/7c (USA time). Ryan was seen arriving to the studio in a denim jacket with a NASA logo emblazoned on the back, a graphic T-shirt and grey jeans. Stay tuned for more news and videos. More pics in the gallery link below: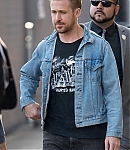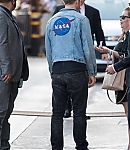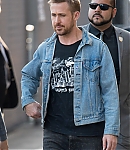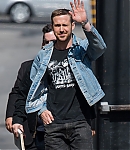 Ryan Gosling is ready to blast off to space! Ryan was also spotted in a personalized space suit while promoting his upcoming Neil Armstrong biopic First Man on Jimmy Kimmel Live on Thursday (June 7) in Los Angeles. Ryan walked with Jimmy, who was also in a space suit, while holding his astronaut's helmet filming a skit on the set.The movie, which co-stars Claire Foy and Corey Stoll, will hit theaters on October 12. Here's a preview in miniatures of Ryan in a special outfit to premiere First Man trailer.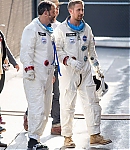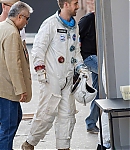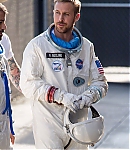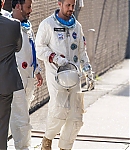 Here's the first poster for Damien Chazelle's First Man starring Ryan Gosling! The latest film from Damien Chazelle that re-teams him with Ryan Gosling for the story of Neil Armstrong and his mission to the moon. Opening in U.S. theaters on October 12th. What do you think about it?
And now we wait for the trailer/teaser!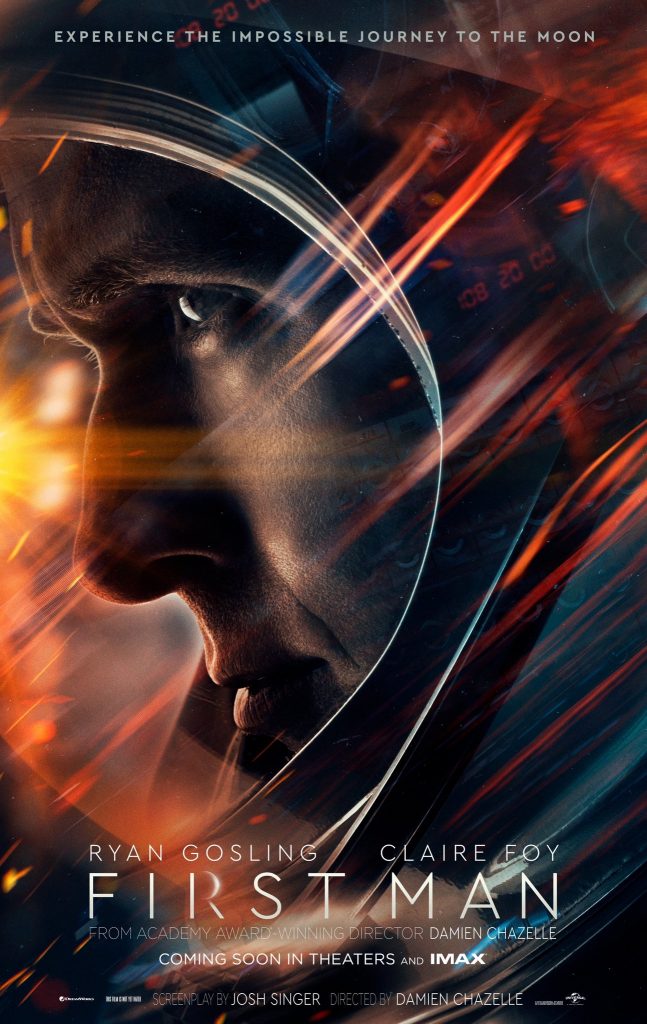 First Man Official Website: http://www.firstman.com
Links for the Official Social Pages of the Movie First Man if you want to turn on notifications:
Twitter: @FirstManMovie
FB: facebook.com/firstmanmovie
Instagram: Instagram.com/firstmanmovie
Ryan Gosling, Claire Foy and Director Damien Chazelle speak onstage during CinemaCon 2018 for the Universal Pictures Special Presentation of the movie 'First Man' Featuring Footage from its Upcoming Slate @ the Colosseum Caesars Palace during CinemaCon, the official convention of the National Association of Theatre Owners. They showed to the audience the trailer of the Movie.
During the panel Ryan said: 'It was a true honor to portray Neil Armstrong'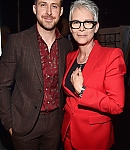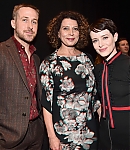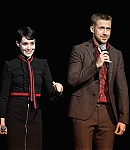 Here's a collection of videos about the movie 'Blade Runner 2049' Interviews, Making of, Featurettes and BTS … Enjoy!
If you want to Bring home Blade Runner 2049 on Digital and Blu-Ray Buy Now here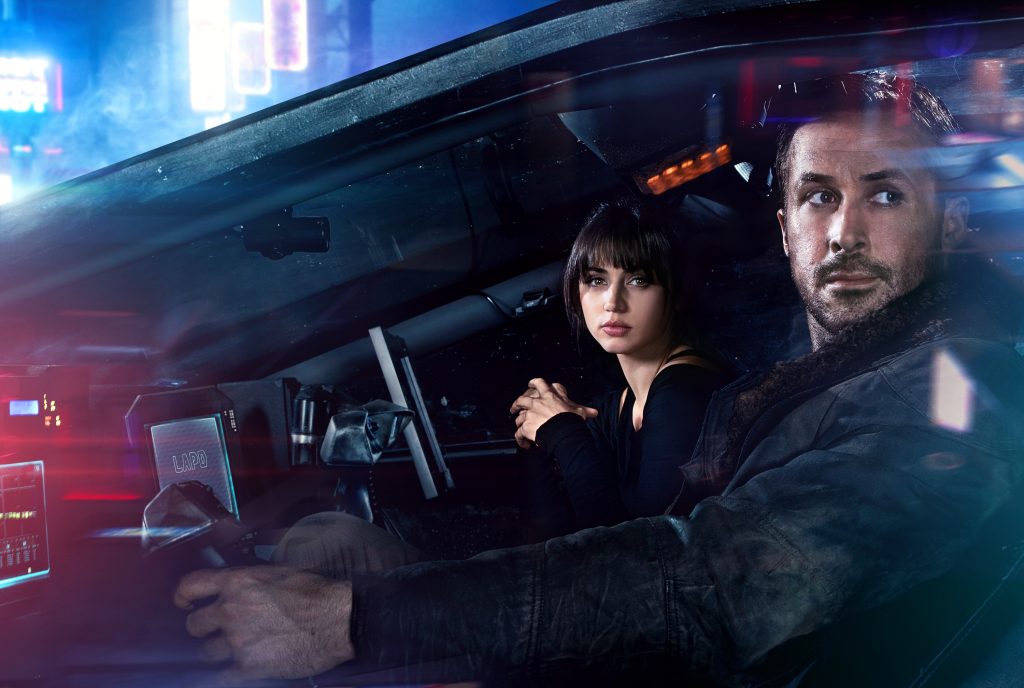 The movie Blade Runner 2049 (2017) directed by Denis Villeneuve has won 2 Academy Awards for Best Visual effects and Best Cinematography. Congrats to Master PD Roger Deakins and to the Visual effects Team of the movie. Just a remind … the movie Blade Runner 2049 was nominated for five Academy Awards Categories.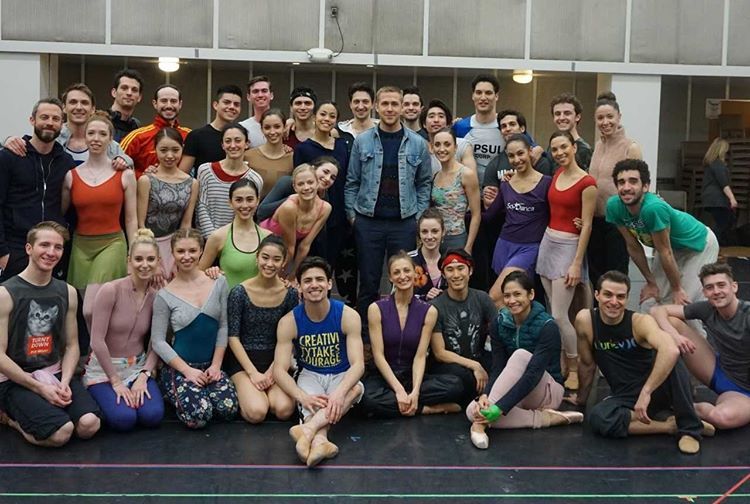 Eva Mendes loves Greek plays and Ryan took her to the ballet at L.A. Opera to watch a special rehearsal of the Joffrey Ballet Company to celebrate her birthday!
Ryan Gosling is in the 1st picture with @mironov_maxim, Maestro @JamesJConlon, @Lisette_Oropesa, Liv Redpath, and Director, Choreographer, and Designer John Neumeier and in the 2nd with the Joeffrey Baller Company. Ryan is such a lovely partner, Isn't he? He would everything to please his lady!
Both pics were taken on March 4th, 2018. (Photo credito to Arya Roshanian, Content Specialist at LA Opera).