Ryan Gosling, Claire Foy and Director Damien Chazelle speak onstage during CinemaCon 2018 for the Universal Pictures Special Presentation of the movie 'First Man' Featuring Footage from its Upcoming Slate @ the Colosseum Caesars Palace during CinemaCon, the official convention of the National Association of Theatre Owners. They showed to the audience the trailer of the Movie.
During the panel Ryan said: 'It was a true honor to portray Neil Armstrong'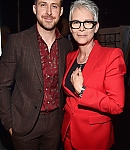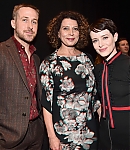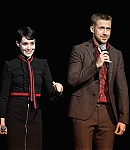 Here's some positive comments from lucky journalists who had the incredible honor to watch the trailer:
The first trailer for First Man, the Neil Armstrong biopic starring Ryan Gosling and Claire Foy, from the Oscar-winning director of La La Land is GORGEOUS. Very immersive, placing the audience through the early days of NASA, in pods, parachutes, and the moon landing. Wow!
Incredible first look at @DSChazelle's First Man documenting the anguish and responsibility of Neil Armstrong and the first team on the moon. Can't wait to see this!
Trailer for First Man, Damien Chazelle-Ryan Gosling re-teaming about Neil Armstrong works all the angles – the Dad, the technological, the geopolitical. Tough from footage to tell how much it will be differentiated from a traditional biopic.
Ryan Gosling as Neil Armstrong, Claire Foy and LALA LAND director Damian Chezelle are teaming up for FIRST MAN. The trailer was intense, it had a vintage, Cold War-era aesthetic, and the final shot will give you chills. Can't wait to see it!
FIRST MAN trailer looked FANTASTIC. Starts with Gosling singing. Dramatic voiceover. Then ramps up into thriller territory. Major Oscar player. Felt a little Malick-y at times. Suggests that Chazelle's next step will be a mega-tentpole.
FIRST MAN trailer reminded me of that first INTERSTELLAR trailer. Looks intense, gorgeously photographed. Not as much space footage as I expected.
La La Land director Damien Chazelle wants to remind everyone just how dangerous the Apollo 11 mission was the wrap. Films like "Apollo 13" and "Gravity" have delved into the deadly risks astronauts take when they go into space, but Damien Chazelle will show how those disasters impacted the most famous astronaut of all time, Neil Armstrong, in "First Man," his upcoming film starring Ryan Gosling as the famed Apollo 11 "What I really wanted to do is get to know the people who went on this unimaginable journey and take audiences along with them," Chazelle said before unveiling the film's first trailer at CinemaCon.
The clip shown at CinemaCon shows Ryan's character with his family, training at NASA, and a difficult conversation with his children during which he acknowledges that the mission carries risks, and that he may not come back. There are also images of Apollo 11 blasting off. The first look ends as Armstrong climbs down the steps of the space capsule as he prepares to take his first step onto the moon. It shows Ryan as Armstrong taking care of his infant child with his wife, Janet, played by Claire Foy. It then shows the couple mourning their friends in NASA who were killed in previous missions while watching new tests and launches take place, often with disastrous results.
Among those infamous tragedies are Ed White and Roger B. Chaffee (Jason Clarke and Cory Michael Smith), the men who were tragically killed on the launch pad during the first Apollo mission. Pablo Schreiber will also appear as Jim Lovell, the commander of Apollo 13 who said the notorious words "Houston, we've had a problem." "We have every intention of coming back," Armstrong assures his son before embarking on his lunar voyage.
"But you might not," his son replies, to which Armstrong can only admit,"That's right." First Man will hit theaters October 12.
Damien Chazelle may need to make more room on his mantlepiece for a second Oscar based on the reaction to the trailer debut of "First Man" at CinemaCon.
The "La La Land" auteur took the stage in Caesars Palace promising theater owners that he intended to take audiences on an "immersive journey" while dramatizing the story of Neil Armstrong's mission to the moon. The goal is to bring moviegoers along with Armstrong and the crew of Appllo 11 "as they shot through the heavens and took those first few steps on the moon," he said.
The film won't just focus on the space race, it will also dramatize the toll that these dangerous missions take on their loved ones back on Earth.
One particularly stirring scene finds Armstrong answering his worried children's questions about whether or not he will make it back after his lunar travels. He tries to deflect by noting that his team has confidence, before ultimately acknowledging that he could die. It's an insular performance, one that could land Gosling in the awards hunt. Foy also may factor into consideration with her portrait of a worried woman struggling to hold her family together.
First Man is described as a visceral, first-person account of NASA's mission to land a man on the moon, focusing on the years 1961-1969 and Armstrong, the astronaut who became the first man to set foot on the moon. Foy plays Armstrong's first wife, Janet. The footage confirmed that First Man underscores the sacrifices and the cost — on Armstrong and on the nation — of one of the most dangerous missions in history.
On stage at CinemaCon, Ryan called the Apollo 11 mission the "most astonishing journey in history." Claire added that this story is also about the "unsung heroes who gave their support to this almost impossible voyage."
Claire said it's hard to believe there hasn't been a movie before about the moon landing, to which Chazelle quipped, "which I was glad about because I got to be the one to make it."
Ryan Gosling and Damian Chazelle were robbed two years ago when the actor and the movie "La La Land" failed to win their Oscars– big time.
But today the pair have returned at Cinema Con in Las Vegas with the trailer for "First Man" and Tweets from Cinema Con are glowing with enthusiasm.
We can't wait to see this trailer! Or to hear the soundtrack! Justin Hurwitz, who wrote all that great "La La Land" music with Pasek and Paul, is the composer. Link Below for the gallery: