| | |
| --- | --- |
| 20 Lug 2018 | Cet article a été rédigé par ryangoslingup |
Here's the new @FirstManMovie Official Poster
This new poster was released to celebrate the 49th Anniversary of Apollo 11 landing on the Moon and made the History
 'This is one small step for man and one giant leap for mankind'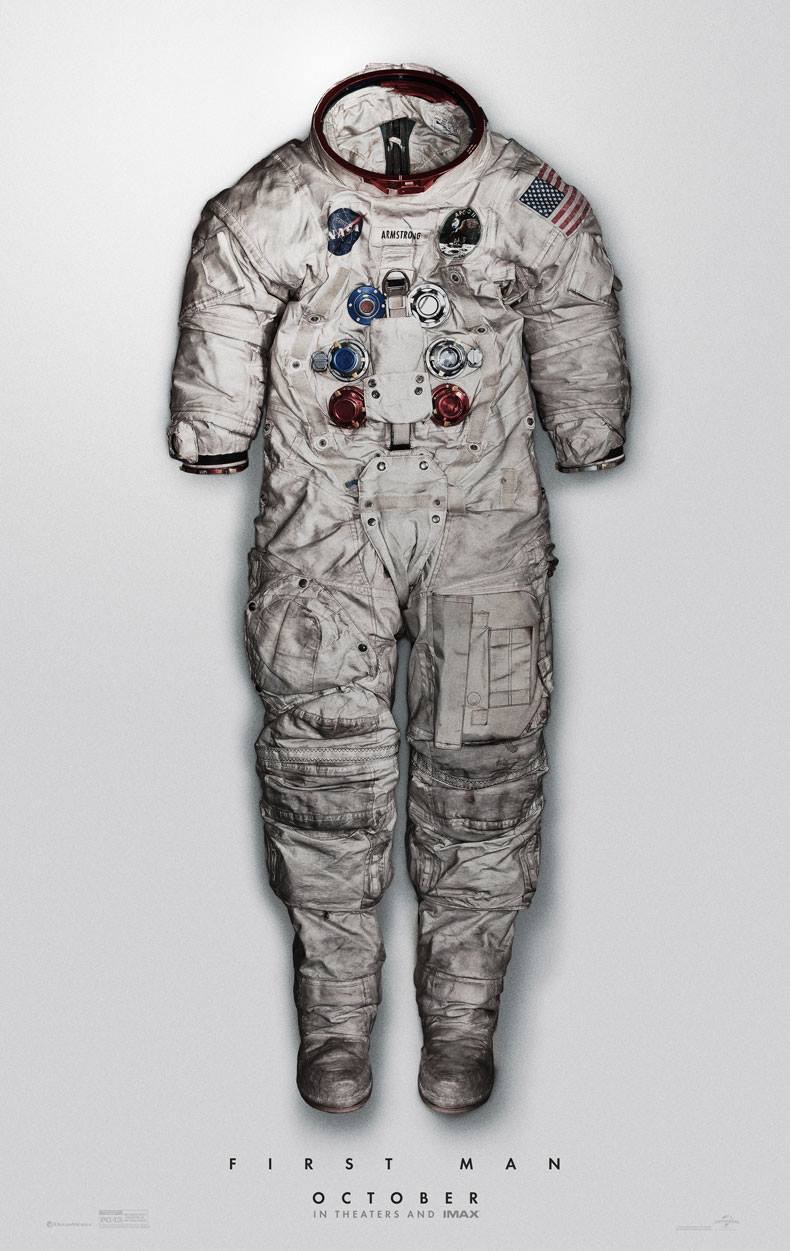 | | |
| --- | --- |
| 19 Lug 2018 | Cet article a été rédigé par ryangoslingup |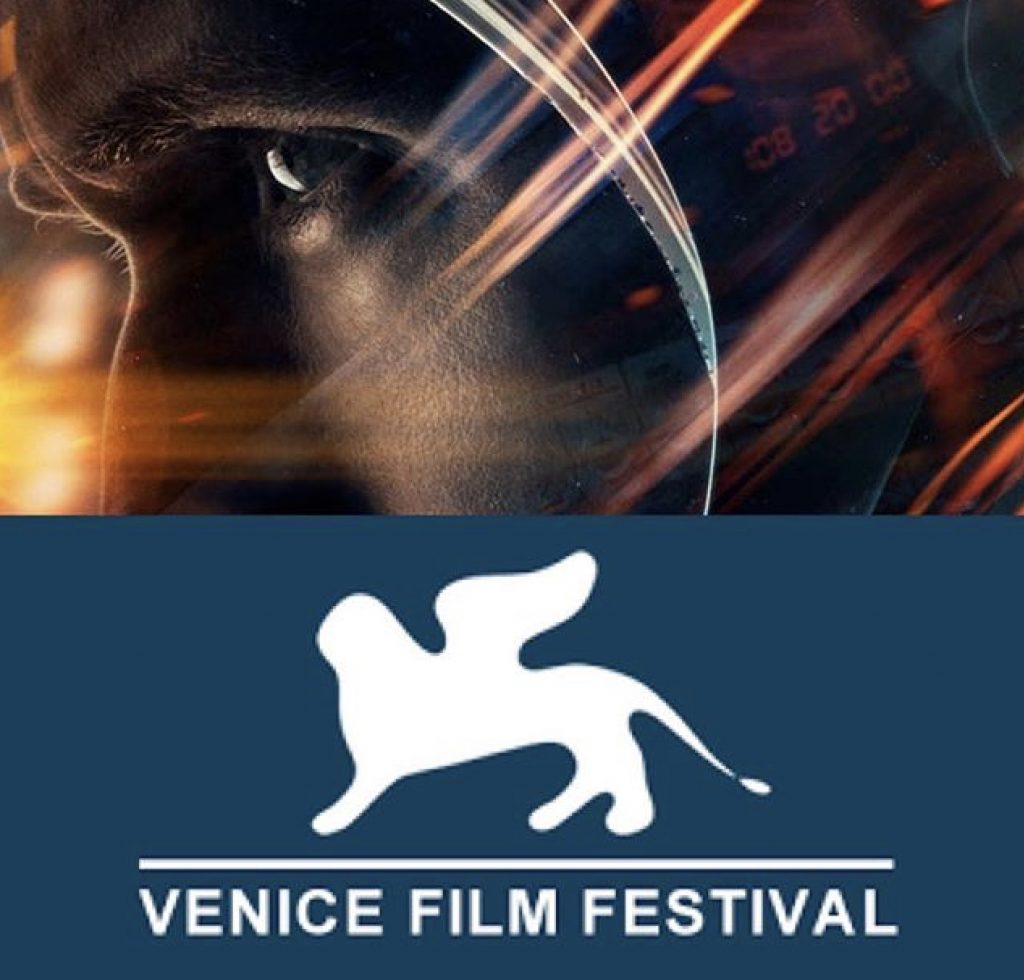 Damien Chazelle's 'First Man' With Ryan Gosling to Open 75th Venice Film Festival and will screen in Competion 
Universal Pictures' First Man, directed by Damien Chazelle (La La Land, Whiplash) and starring Ryan Gosling, Jason Clarke and Claire Foy, has been announced as the opening film, in Competition, of the 75th Venice International Film Festival(August 29 – September 8, 2018), directed by Alberto Barbera and organized by the Biennale di Venezia, chaired by Paolo Baratta. The announcement of the world premiere of the film comes on the eve of 49th anniversary of the Apollo 11 landing on the moon.
Barbera declared: "It is a true privilege to present the world premiere of Damien Chazelle's new, highly-awaited film. It is a very personal, original and compelling piece of work, wonderfully unexpected within the context of present day epic films, and a confirmation of the great talent of one of the most important contemporary directors of American cinema. Our gratitude goes to Universal Pictures for premiering First Man at the 75th Venice Film Festival."
Chazelle declared: "I am humbled by Venice's invitation and am thrilled to return. It feels especially poignant to share this news so close to the moon landing's anniversary. I eagerly look forward to bringing the film to the festival."
First Man will be shown in its world premiere screening on Wednesday August 29th, in the Sala Grande at the Palazzo del Cinema on the Lido di Venezia.
On the heels of their six-time Academy Award®-winning smash, La La Land, Oscar®-winning director Damien Chazelle and star Ryan Gosling reteam for Universal Pictures' First Man, the riveting story of NASA's mission to land a man on the moon, focusing on Neil Armstrong and the years 1961-1969. A visceral, first-person account, based on the book by James R. Hansen, the movie will explore the sacrifices and the cost—on Armstrong and on the nation—of one of the most dangerous missions in history.
Written by Academy Award® winner Josh Singer (Spotlight), the drama is produced by Wyck Godfrey & Marty Bowen (The Twilight Saga, The Fault in Our Stars) through their Temple Hill Entertainment banner, alongside Chazelle.  Steven Spielberg, Isaac Klausner, Adam Merims and Singer executive produce.  DreamWorks Pictures co-finances the film.
Other recent Venice openers have included "Downsizing," "Everest," "Birdman," "Gravity," "The Reluctant Fundamentalist," "The Ides of March," and "Black Swan."The 75th annual Venice Film Festival runs Aug. 29 – Sept. 8. Guillermo del Toro, whose Oscar-winning film "The Shape of Water" premiered in Venice last year, will head the festival jury.
| | |
| --- | --- |
| 28 Giu 2018 | Cet article a été rédigé par ryangoslingup |

⭐ Blade Runner 2049 han won the Saturn Award as Best Science Fiction Film. Congrats to Cast & Crew!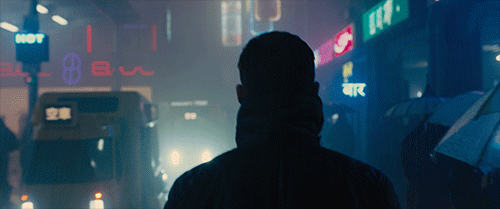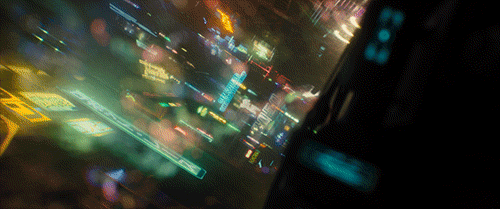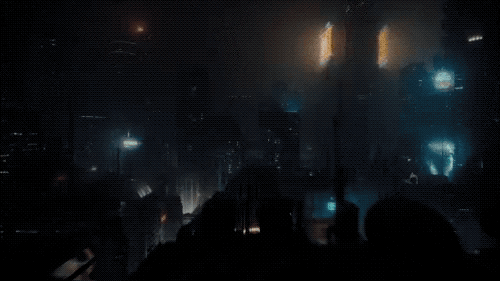 | | |
| --- | --- |
| 09 Giu 2018 | Cet article a été rédigé par ryangoslingup |

Ryan Guest @ Jimmy Kimmel Live Game Night series talkin' about his upcoming project as Actor in the movie 'First Man' by Damien Chazelle and showing to the world the teaser of the movie in a very special outfit 👨‍🚀
You never know what — or who — you'll find out in space!
Ryan Gosling stars as iconic astronaut Neil Armstrong in the upcoming biopic First Man, and to celebrate the movie's first trailer, he and Jimmy Kimmel decided to head to space to chat about the film, the two stars blast off to conduct an interview unlike any other — which also includes a nod to the 2013 space film Gravity. "Look, it's George Clooney," shouts Kimmel, seated next to Gosling in full astronaut gear, as he points to a floating space suit with Clooney's face on it. "That's pretty exciting. I wouldn't imagine there would be celebrities in space,"he adds, as the two wave. "Oh, this is a lot of fun!"
Here's a bunch of Pics from the show, more in the Gallery of the website, link Below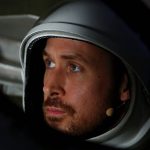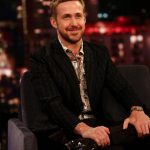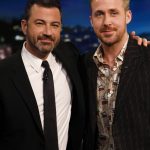 And here's a preview 🎥 of the interview. Here's the link for the streaming of the full episode.
| | |
| --- | --- |
| 06 Giu 2018 | Cet article a été rédigé par ryangoslingup |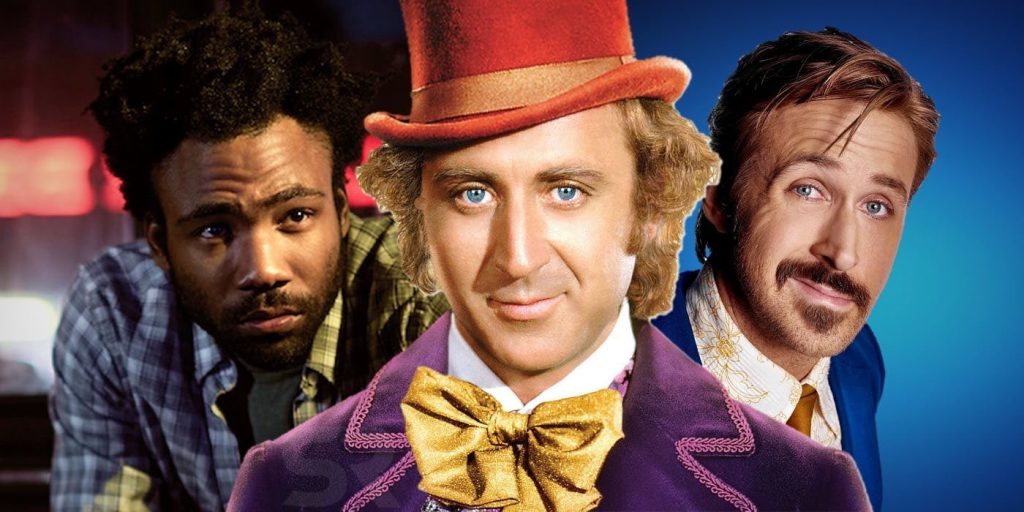 Ryan Gosling, Donald Glover and Ezra Miller are all on the short list to star in Warner Bros' new 'Willy Wonka' film. The film is said to be a prequel and will focus on the origin story of Willy Wonka (via @Collider)
Warner Bros. is moving ahead with their Willy Wonka reboot and they've got some very interesting, big names on their shortlist for the lead role. We reported back in February that Paddington director Paul King had been tapped to helm the project for the studio. Now it appears as though they're in the casting phase and are putting together a list of potential candidates to fill the very big shoes once filled by the legendary Gene Wilder. It looks like Ryan Gosling, Ezra Miller and Donald Glover at all on the shortlist.
According to a new report, the trio of actors are in the mix to play a young Willy Wonka in what is expected to be a prequel set prior to the events of the classic Willy Wonka and the Chocolate Factory. We previously reported that there were rumors suggesting that Ryan Gosling was actively pursuing the role and it appears as though that may have worked, to some degree. At the very least, he's being considered and that makes a great deal of sense. He's partnered with Warner Bros. plenty in the past on projects like Blade Runner 2049 and The Nice Guys. From his point of view he hasn't really tackled a family-friendly project such as this, so it represents a new challenge.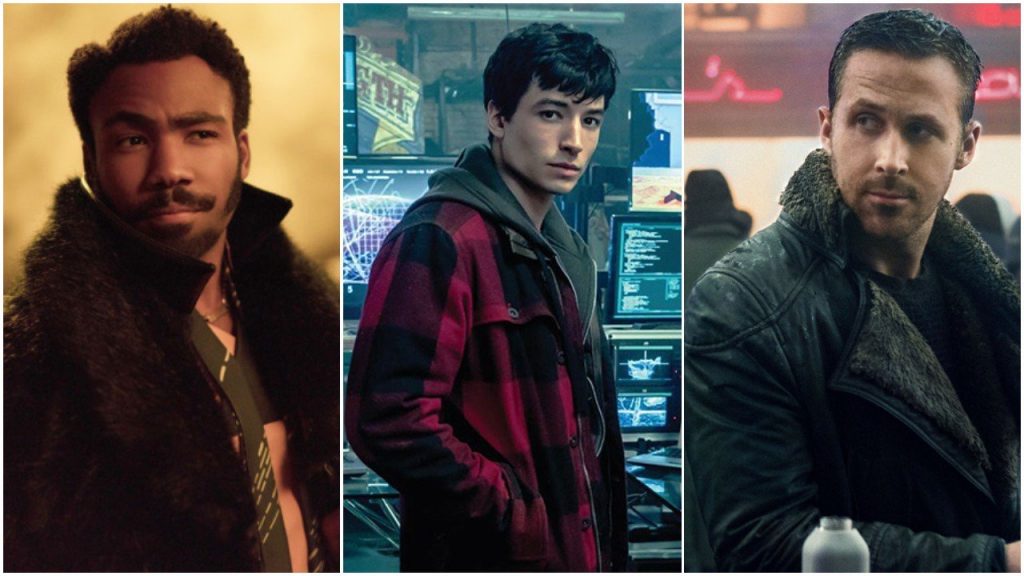 Donald Glover is the standout in this list. He's an entertainer that literally everyone seems to want to work with right now, and with good reason. The man is a rare talent. He's a massively successful musician, actor, writer and producer. It also would certainly be taking the character in a very different direction, but if anyone has the charisma to pull something like this off, it's Glover. Once he finishes filming the live-action take on The Lion King for Disney, he's pretty free as far as movie commitments go, but he's got Atlanta on FX and his music to worry about.
Then there's Ezra Miller. Since this new movie comes from producer David Heyman and is set up at Warner Bros., this name makes a great deal of sense. Miller currently stars as The Flash in the DC movies and is featured in the Fantastic Beasts movies. Heyman produced the Harry Potter movies and is working on Fantastic Beasts as well. If he somehow winds up with the part, that would be three potentially huge franchises resting on the young actor's shoulders.
Simon Rich (Man Seeking Woman) is penning the screenplay for this new take on the book by Roald Dahl. The last time we saw the material brought to the big screen was in 2005's Charlie and the Chocolate Factory, which saw Johnny Depp as Wonka and was helmed by Tim Burton. The reception to that take wasn't all that warm, but Warner Bros. is clearly going for something very different this time around. The Willy Wonka reboot does not yet have a release date. This news comes to us courtesy of Collider.
We'll see what is going to happen … have you ever watched the original movie … personally I grew up with it and I love Gene Wilder. Here's a sneak peak of the original movie 🎥
| | |
| --- | --- |
| 06 Giu 2018 | Cet article a été rédigé par ryangoslingup |
Finally here's the 1st Official HD Trailer released by
@Universal Pictures of the Movie First Man … Wow
Ryan Gosling is headed to space.
The first trailer for his next movie, "First Man," debuted Friday night during "Jimmy Kimmel Live!," showing Ryan as the first man to set foot on the moon, Neil Armstrong. It's Damien Chazelle's follow-up to "La La Land," which scored both him and Gosling Oscars.
The trailer, in addition to giving the first glimpse of Gosling as Armstrong, also showed Claire Foy as his concerned wife, Janet. "This isn't just another trip, Neil," she tells her husband at one point. "You're not just going to work."
Indeed, the trailer focuses mostly on the dangers surrounding the risky Apollo 11 spaceflight. Neil Armstrong faces questions from politicians, and is even asked by his son, "Do you think you're coming back?"
"First Man" debuted its first footage to theater owners at CinemaCon in April. There, Chazelle promised exhibitors that audiences would not only be taken on an "immersive journey," going with Armstrong and his crew as they took their first steps on the moon, but to give a look at Neil and Janet's difficult marriage.
In addition to Gosling and Foy, "First Man" also stars Pablo Schreiber, Kyle Chandler, and Jason Clarke. It's set to fly into theaters on Oct. 12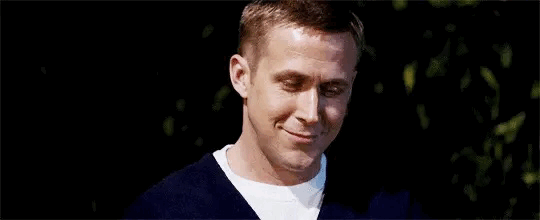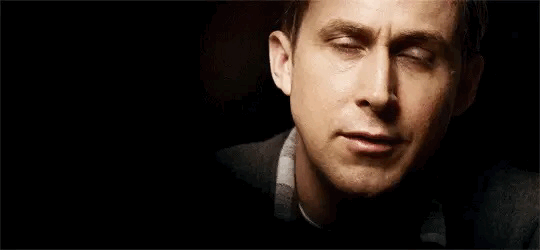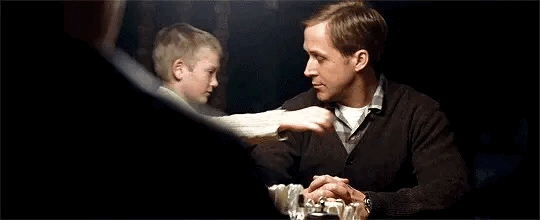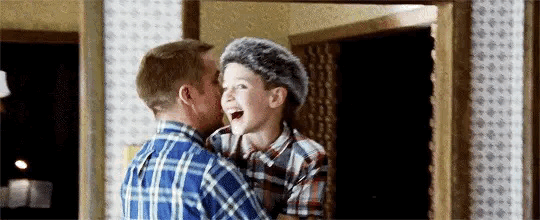 | | |
| --- | --- |
| 06 Giu 2018 | Cet article a été rédigé par ryangoslingup |

Hello Everybody! Here's a preview of Ryan Gosling's Arrival to Jimmy Kimmel Live Studio in L.A. ' @ El Captain' Theatre, to record the interview that it's going to be aired tonight Friday June 8, 2018 on ABC at 8e/7c (USA time). Ryan was seen arriving to the studio in a denim jacket with a NASA logo emblazoned on the back, a graphic T-shirt and grey jeans. Stay tuned for more news and videos. More pics in the gallery link below 👇


Ryan Gosling is ready to blast off to space!
Ryan was also spotted in a personalized space suit while promoting his upcoming Neil Armstrong biopic First Man on Jimmy Kimmel Live on Thursday (June 7) in Los Angeles. Ryan walked with Jimmy, who was also in a space suit, while holding his astronaut's helmet filming a skit on the set.The movie, which co-stars Claire Foy and Corey Stoll, will hit theaters on October 12. Here's a preview in miniatures of Ryan in a special outfit to premiere First Man trailer 👨‍🚀
Check out the latest pics of Ryan Gosling clicking on Gallery Link image below👇

| | |
| --- | --- |
| 06 Giu 2018 | Cet article a été rédigé par ryangoslingup |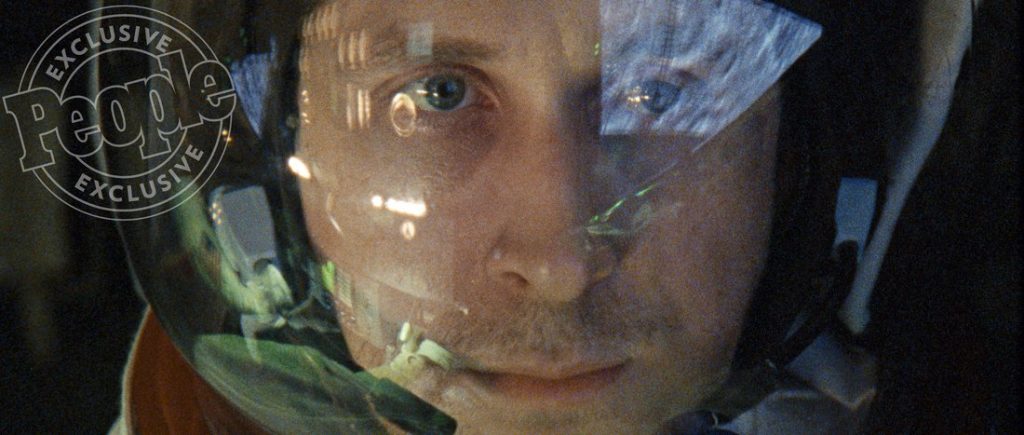 Thanx to People.com we can finally enjoying the first official stills of the movie 'First Man' by Damien Chazelle. Now we only have to wait for the trailer … Big Chance to watch it this Friday on Abc @ 'Jimmy Kimmel Live' Game Night Show where Ryan is probably going to show to the world a sneak peak of the movie Wow!
Here's the link to read the full People's Article with the Director's Interview 👉 People Article
Damien Chazelle Quote from People's Inteview: '"Ryan and I described the movie to each other as it's about the moon and the kitchen, which means basically we wanted to tell the story about one of the most epic accomplishments in human history, but root it very much in the intimate and the day to day details of what it was actually like." he says. "What did it feel like to be Neil or Janet at that moment in time and going through these truly superhuman kind of events.'

About Ryan and Claire Foy Damien said: 'Ryan and Claire Foy had never worked together, but I remember right from the beginning they just slipped into these roles, and just became a family on camera," he says. "There was this sort of chemistry and bond between Ryan and Claire onscreen that really felt like the young Neil and Janet Armstrong that I had read about.'
Here's some minutures of the stills, clicking on the Gallery link  image below you'll be directly connected to the album with the real dimension images.

| | |
| --- | --- |
| 23 Mag 2018 | Cet article a été rédigé par ryangoslingup |
Finally … here's the first poster  for Damien Chazelle's First Man starring Ryan Gosling! 🚀 The latest film from Damien Chazelle that re-teams him with Ryan Gosling for the story of Neil Armstrong and his mission to the moon. Opening in U.S. theaters on October 12th. What do you think about it?
And now we wait for the trailer/teaser! 🎥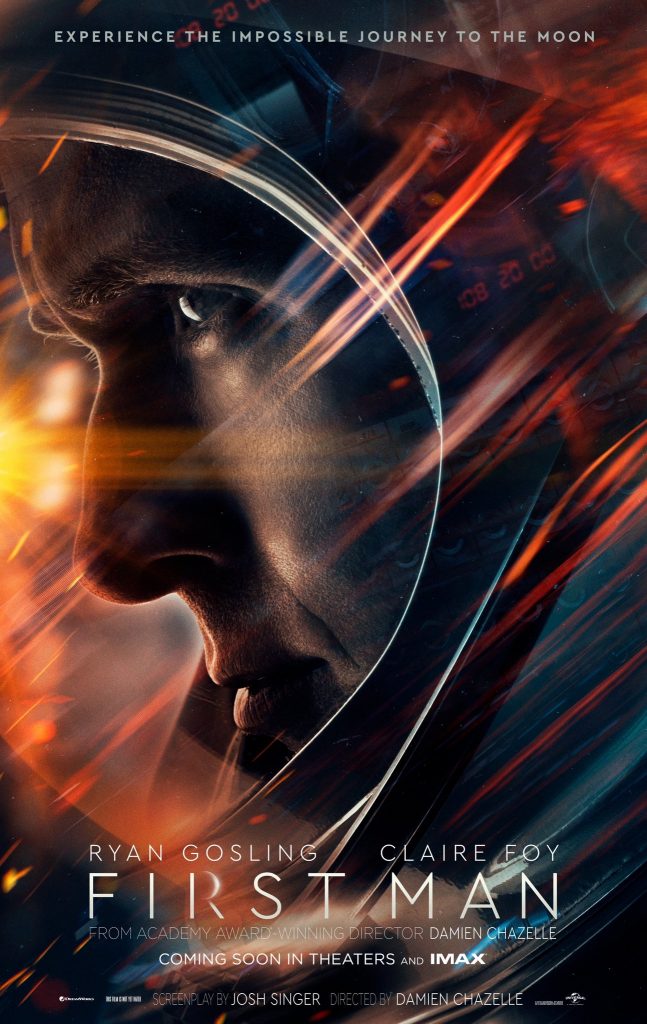 First Man Official Website  http://www.firstman.com
Links for the Official Social Pages of the Movie #firstman … If you want to turn on notifications:
Twitter: @FirstManMovie 🎥 
FB : facebook.com/firstmanmovie
And on IG: Instagram.com/firstmanmovie
| | |
| --- | --- |
| 25 Apr 2018 | Cet article a été rédigé par ryangoslingup |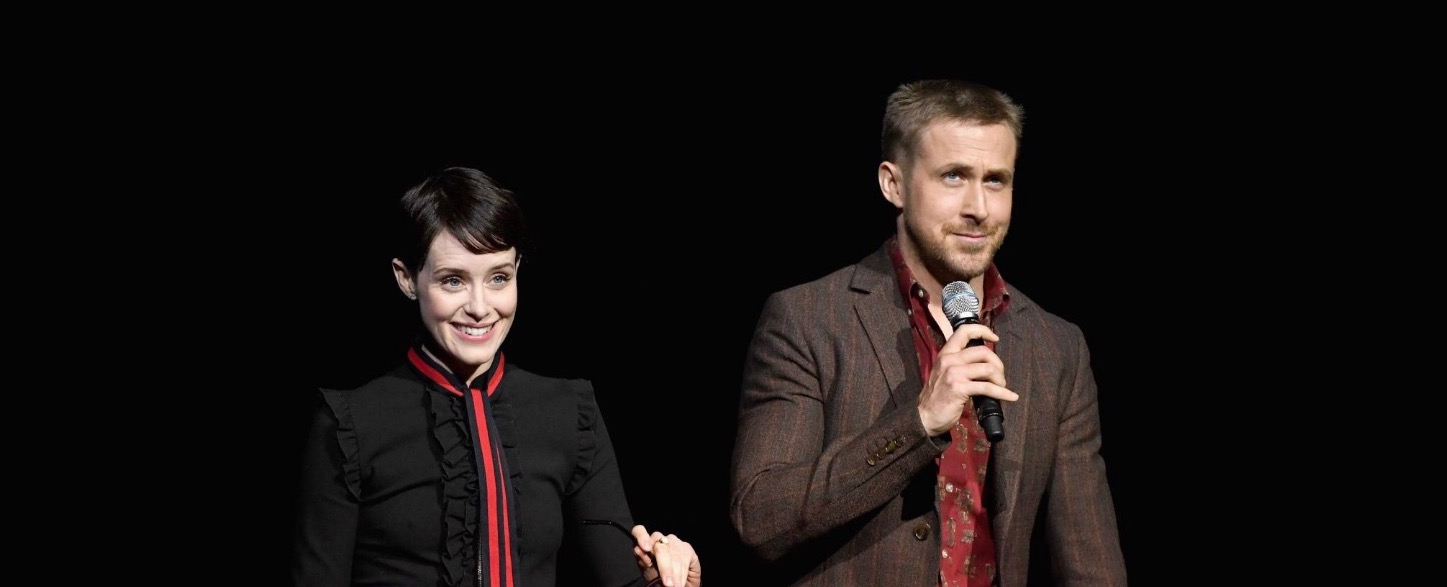 Ryan Gosling, Claire Foy and Director Damien Chazelle speak onstage during CinemaCon 2018 for the Universal Pictures Special Presentation of the movie 'First Man' Featuring Footage from its Upcoming Slate @ the Colosseum Caesars Palace during CinemaCon, the official convention of the National Association of Theatre Owners. They showed to the audience the trailer of the Movie.
During the panel Ryan said: 'It was a true honor to portray Neil Armstrong'
Here's some positive comments from lucky journalists who had the incredible honor to watch the trailer:
The first trailer for First Man, the Neil Armstrong biopic starring Ryan Gosling and Claire Foy, from the Oscar-winning director of La La Land is GORGEOUS. Very immersive, placing the audience through the early days of NASA, in pods, parachutes, and the moon landing. Wow!
Incredible first look at @DSChazelle's First Man documenting the anguish and responsibility of Neil Armstrong and the first team on the moon. Can't wait to see this!
 Trailer for First Man, Damien Chazelle-Ryan Gosling re-teaming about Neil Armstrong works all the angles – the Dad, the technological, the geopolitical. Tough from footage to tell how much it will be differentiated from a traditional biopic.
Ryan Gosling as Neil Armstrong, Claire Foy and LALA LAND director Damian Chezelle are teaming up for FIRST MAN. The trailer was intense, it had a vintage, Cold War-era aesthetic, and the final shot will give you chills. Can't wait to see it!
FIRST MAN trailer looked FANTASTIC. Starts with Gosling singing. Dramatic voiceover. Then ramps up into thriller territory. Major Oscar player. Felt a little Malick-y at times. Suggests that Chazelle's next step will be a mega-tentpole.
 FIRST MAN trailer reminded me of that first INTERSTELLAR trailer. Looks intense, gorgeously photographed. Not as much space footage as I expected.
La La Land director Damien Chazelle wants to remind everyone just how dangerous the Apollo 11 mission was the wrap. Films like "Apollo 13" and "Gravity" have delved into the deadly risks astronauts take when they go into space, but Damien Chazelle will show how those disasters impacted the most famous astronaut of all time, Neil Armstrong, in "First Man," his upcoming film starring Ryan Gosling as the famed Apollo 11 (altro…)