Ryan Gosling attended the Universal panel @ CinemaCon in Las Vegas on April 26, 2023 alongside Emily Blunt & director David Leitch.
Universal Pictures and Focus Features are teaming up to take the main stage at CinemaCon by storm! Toward the end of the dual presentation, details concerning David Leitch's The Fall Guy took the center spotlight. The presentation includes an amazing stunt show, cast and crew comments, and The Fall Guy trailer debut.
The 87North stunt team walked onto the stage while a guy on a motorcycle zipped across the stage, dragging someone behind, while people did parkour around him. Then a crew came out with balded weapons – swords and sais. After an impressive display of skill, a guy with a bo staff took them all out.
David Leitch took the stage, while Ryan Gosling and Emily Blunt repelled down on ropes, only it was their stunt doubles. The actual Gosling and Blunt performed a skit where they refused to come out because it looked too dangerous. "Is it safe," Gosling asked. "We don't engage in that kind of horseplay," said Blunt.
"It was a shocking thing that anyone would break up with you," Blunt joked with Gosling. "But there are many reasons, too many to name." Gosling said it was "a huge honor to step into the footsteps of the iconic Lee Majors," and also took time to shout out his stunt doubles and performers who helped with his action scenes, from being set on fire to a high fall from a helicopter. "That's what I love so much about this film. Most films, the actors get all the credit and the stunt performers do all the hard work. That ends today."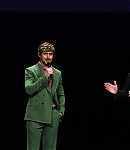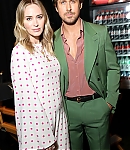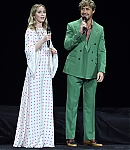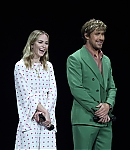 Exclusive Footage Description: CinemaCon 2023 got the very first exclusive look at The Fall Guy, adaptation of the 1981 action-adventure television series of the same name. Leitch says the project hits close to home since the story gives an inside look into the life of hard-working stunt people.
Attention! Spoilers Ahead:
Continue reading