Category: News
Ryan Gosling with the rest of First Man Cast & Crew attended the 24th @CriticsChoice Awards Show on January 13, 2019 in Santa Monica at the Airport Barker Hanger. The ceremony was hosted by Taye Diggs and aired on the CW. Below you can find the link for more HQ pictures from the events and some clips from the show.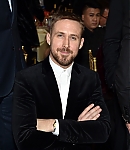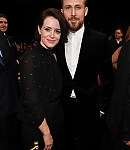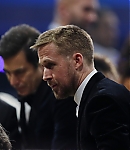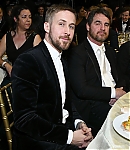 Ryan Gosling attended an Award Season First Man Press Event after Party Screening @ the London West Hollywood Hotel in Beverly Hills on January 11, 2019 with Damien Chazelle, Claire Foy & other people from the movie Cast & Crew.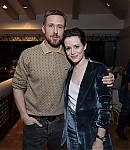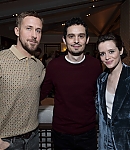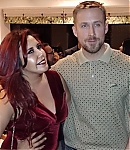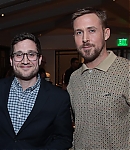 Ryan Gosling aattended a First Man Q&A with Director Damien Chazelle, Claire Foy, Composer Justin Hurwitz, and Writer Josh Singer at the @arclightcinemas Hollywood on January 9th.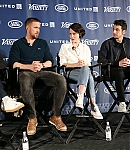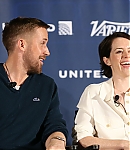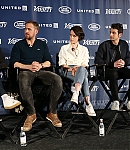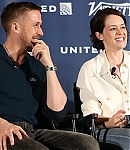 Ryan Gosling, Claire Foy & director Damien Chazelle attended on January 8th the @sidgrauman (American Cinemateque) FIRST MAN screening Q&A moderated by Jim Hemphill at the Aero Theatre in Santa Monica, L.A.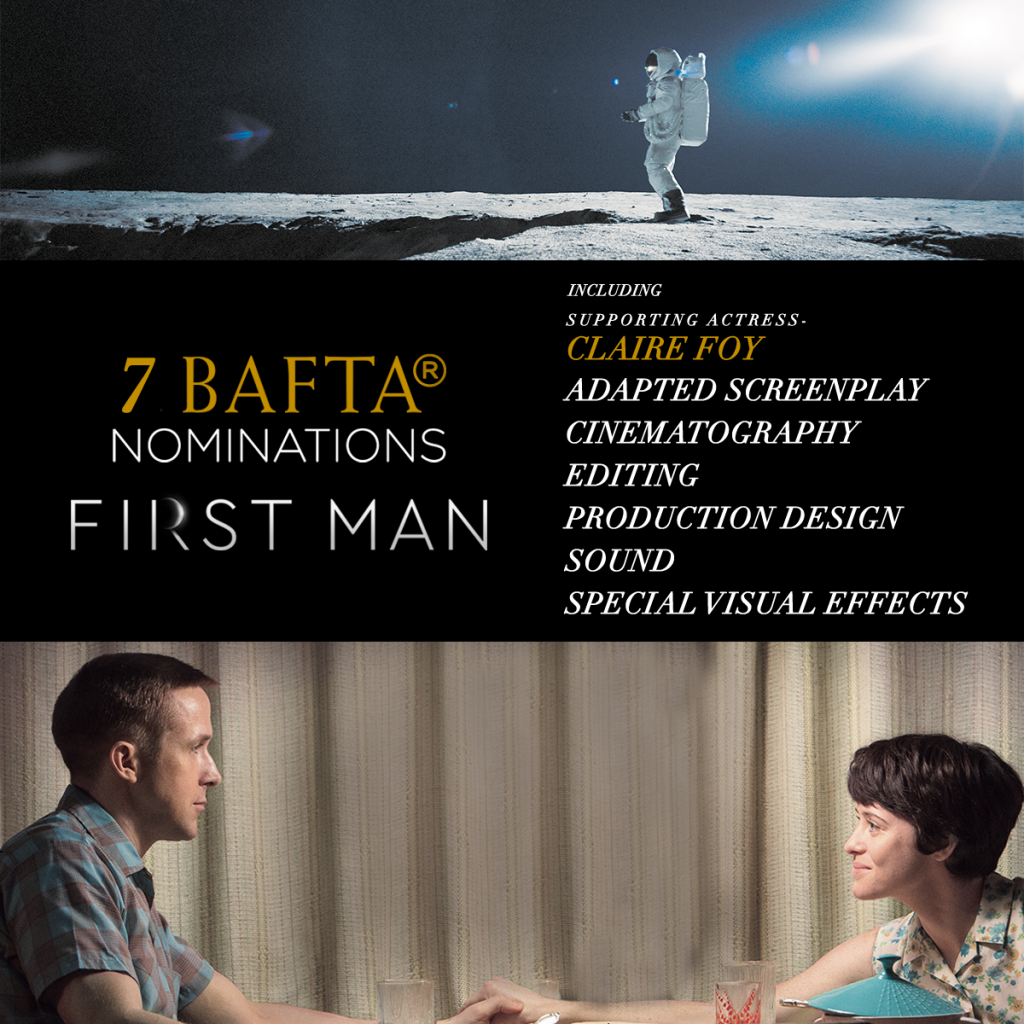 First Man has been nominated for 7 Bafta Awards – The Bristish Oscar Awards. The ceremony will take place in London on Feb. 10 .
The Nominations are:
Best Supporting Actress Claire Foy;
Best adapted Screenplay Josh Singer;
Best cinematography Linus Sandgren;
Best Editing Tom Cross;
Best Production Design Nathan Crowley, Kathy Lucas
Best Sound Mary H. Ellis, Mildred Iatrou Morgan, Ai-Ling Lee, Frank A. Montaño, Jon Taylor
Best Special Visual Effects Ian Hunter, Paul Lambert, Tristan Myles, J.D. Schwalm.
'First Man' Blu-Ray Bonus Feature Takes Ryan Gosling to Space Camp (Exclusive Clip) courtesy of Universal Pictures and thanx to Space.com to post this video.
"Everything here is from the moon," says one NASA technician showing Ryan Gosling around. "Seeing the Apollo 11 capsule was really wonderful to help ground us in the reality of it," Ryan said.
'The look of First Man' Video Courtesy of Universal Pictures.
The movie is available on Digital HD from Jan. 8 and will be available in 4K Blu-ray, Blu-ray and DVD from Jan. 22.
Ryan Gosling Gets Dragged Across a Field Multiple Times in 'First Man' Stunt (video credit to Universal Pictures and ET online.com).
Ryan Gosling attended the special soirée celebrate party dedicated to the movie First Man.
Ryan attended this event to promote the movie for the awards season at the Penthouse Mastro's Steakhouse in Beverly Hills on December 19th, L.A.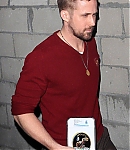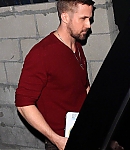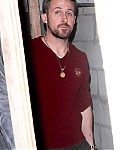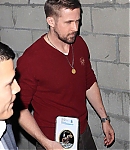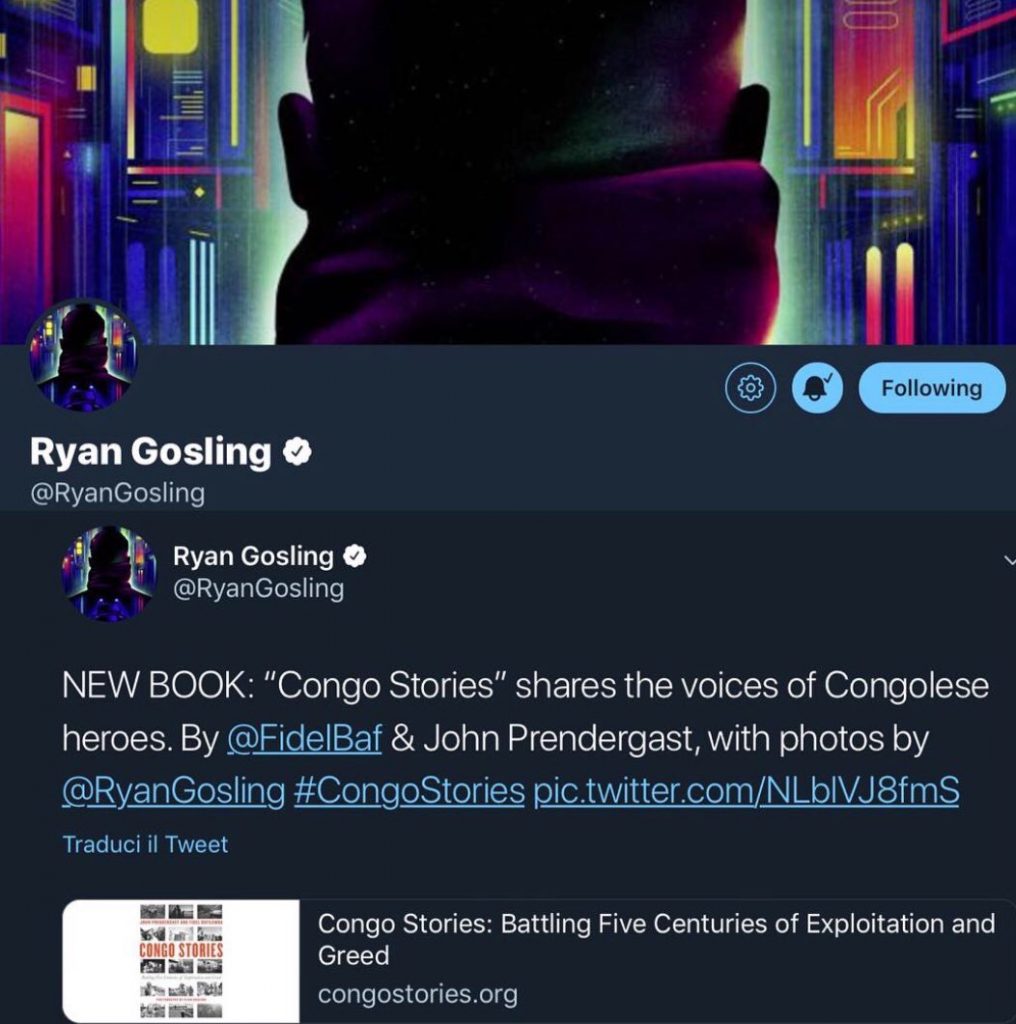 The King is Back! After more than 1 year of absence, on December 15th 2018, Ryan finally came back to tweet something on his official twitter account @RyanGosling and he tweeted about something he really cares about Congolese heroes depicted in the Congo Stories book.
In Congo Stories Book John Prendergast and Fidel Bafilemba reveal how the people of Congo are fighting back against a tidal wave of international exploitation and governmental oppression to make things better for their nation, their communities, and their families. The book contains stunning photographs taken by Ryan, Bafilemba's profiles of heroic Congolese activists, and Prendergast's narratives of the extraordinary history and evolving social movements that directly link the Congo with the United States and Europe. Congo Stories provides windows into the history, the people, the challenges, the possibilities, and the movements that could change the course of Congo's destiny.

Ryan attended the Congo Stories Book Signing in NYC at the Strand Bookstore Rare Book Room Broadway on December 14, 2018.
Here's a bunch of pictures of Ryan stepping Out from the Book Shop and heading to a NYC Cafe' in Union Square on December 14, 2018