RYAN GOSLING'S DIRECTORIAL DEBUT, LOST RIVER (2015)
Ryan is one of the most exciting actors of his generation and 'Lost River' reveals that he is also one of its most promising young directors. His debut film is a singular vision of stranded people finding connection in a broken world. We believe in this film and in Ryan as a director, and are delighted to be working with him in this new role. This is a great opportunity to give audiences the chance to discover this compelling, original work for themselves.
The film, from Sierra Affinity, Phantasma Films and Bold Films, stars Christina Hendricks (TV's "Mad Men"), Saoirse Ronan ("The Grand Budapest Hotel"), Iain De Caestecker (TV's "Agents of S.H.I.E.L.D."), Matt Smith (TV's "Doctor Who"), Reda Kateb ("Zero Dark Thirty"), Barbara Steele (TV's "Dark Shadows"), with Eva Mendes ("The Place Beyond the Pines"), and Ben Mendelsohn ("The Dark Knight Rises"). In addition to directing the film, Gosling also wrote the screenplay. The producers are Marc Platt ("Into the Woods"), Gosling, Adam Siegel ("Drive"), Michael Litvak ("Nightcrawler") and David Lancaster ("Nightcrawler"). Gary Michael Walters and Jeffrey Stott served as executive producers. Johnny Jewel ("Drive") composed the film's music.
"Lost River" is a dark fairy tale about love, family and the fight for survival in the face of danger. In the virtually abandoned city of Lost River, Billy (Christina Hendricks), a single mother of two, is led into a macabre underworld in her quest to save her childhood home and hold her family together. Her teenage son Bones (Iain De Casestecker) discovers a mystery about the origins of Lost River that triggers his curiosity and sets into motion an unexpected journey that will test his limits and the limits of those he loves.
"I am excited that Lost River is being released by Warner Bros" Said Ryan. "It's a small specialty film, so for me, this day-and-date theatrical and digital release plan provides the best of both worlds. It allows those who are interested in seeing my film in a theatre to do so without excluding the majority of people who don't have access to a specialty cinema. VOD is giving a new life to independent cinema and I'm very excited to have the opportunity to showcase the wonderful work of my cast and crew on such a broad platform."
"Lost River" composer Johnny Jewel will be releasing the Original Motion Picture Soundtrack on his record label, Italians Do It Better, on March 30, ahead of the film's theatrical release on April 10. The soundtrack features original score by Jewel, vocal performances from "Lost River" stars Saoirse Ronan and Ben Mendelsohn, as well as songs written for the film by Jewel's groups Chromatics, Glass Candy, and Desire. The soundtrack will be released on CD and digitally as well as a collectible double record pressed on purple vinyl. "Lost River" reunites the collaborative efforts of writer-director Ryan Gosling and critically acclaimed musician Johnny Jewel, who first worked together on the soundtrack success of "Drive."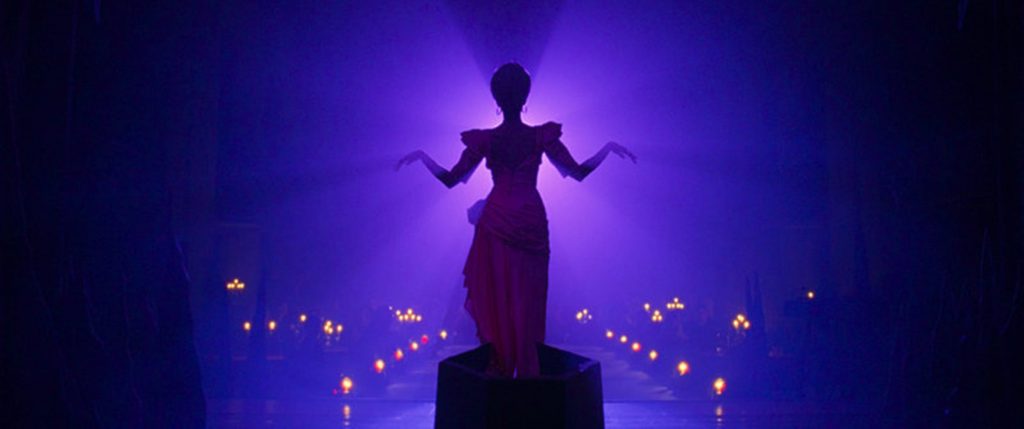 Ryan on his Movie
This film was, in a lot ways, a gift from the directors I've been working with over the last few years. I've gone between acting in films completely based in reality with Derek Cianfrance to the fevered dreams of Nicolas Winding Refn. I think I've vacillated between these two extremes because my own sensibilities as a filmmaker lay somewhere in-between.
It's not until I had the opportunity to work on The Ides of March that I was introduced to Detroit, a place that is currently living on the border of those two realities. Although I was only there for a few days I couldn't help but be affected by the city.  It was on the verge of declaring bankruptcy. There were forty miles of abandoned neighborhoods and, within pockets of those neighborhoods, there were parents trying to raise their children on streets where houses were being burned and torn down around them. Detroit was the birthplace of the Model T, Motown and the middle class. It was, at one time, a postcard for the American Dream but now, for the families in these neighborhoods, the dream has become a nightmare. Having said that, there is still a lot of hope there. There is something very inspiring about the consciousness in Detroit. What it once was and will be again is still very much alive. I knew I had to make something there.
I kept returning over the following year, trying to document some of these neighborhoods before they were torn down or destroyed and I began to think of a story that took place not in Detroit, but in Lost River, an imagined city with an imagined past. As the elements of the story began to emerge; a family losing their home, a mysterious secret beneath the surface, I drew from the 80's family fantasy films that I grew up with and filtered them through the sensibilities about film I've acquired since. With that, Lost River began to take shape for me in the form of a dark fairy tale with the city itself as the damsel in distress and the characters as broken pieces of a dream, trying to put themselves back together.
Ryan Gosling:  "I wanted to make this film because it's a movie that I would want to see. Like many children who grew up in the 1980s, I first approached the cinema through mainstream films. I was excited to shoot this kind of story, but with the language of filmmaker that I've acquired through the years".
Christina Hendricks: "Ryan was amazing. This is his first film, and we had some disappointments: one day a torrential rains, another one we lost a camera… In these cases, he took things as they come and found an immediate and creative solution to overcome obstacles. Moreover, being an actor himself, he gives very useful information about the characters, and he knows how to talk to actors. I think everyone really respect his vision, imagination, his enthusiasm and creativity".
All the actors agree in saying Ryan's experience in being himself an actor has created a serene atmosphere and a great collaborative relationship.
"He is very attentive, always perceives what others feel and he knows our mind "said Saoirse Ronan. "He is kind, very careful and he approaches things from an original angle, which I like a lot. In addition, he is calm, concise, and his vision is personal and well defined, but that did not stop to let others make their own contribution," says an enthusiastic Matt Smith.
Ryan never wanted to have a role in the movie: "This would not have been very responsible on my part, because the film is quite ambitious. There are lots of actors who become directors, it gives the impression that it is easy, but it is not. I had a lot to do in making the film, I thought it was better to focus on that".
Detroit was used as base for the imaginary city of Lost River and she has a great role in the movie. Ryan knew no other cities could express the same desolation and unreal beauty of Lost River.
"Some iconic films of the 1950s, like THE OUTSIDERS or AMERICAN GRAFFITI, even if they do not take place in Detroit, were certainly influenced by what was happening. The film thus shows how the American dream has turned into a nightmare, at least for the people who live there" says Ryan.
Ryan also thought filming in Detroit could have allowed the actors to anchor their interpretation of reality. "Shooting in Detroit, allowing them to walk around this city in ruins gives the film an authenticity that perhaps would not have otherwise," he says. "The environment is everything. When we were tracking and during filming, we met with residents of these neighborhoods, and they are now part of the scenes we shot and of the universe we created. There is still a lot of hope in Detroit. That is why this is the only place where we could make this film. It's a city that gives creativity and inspiration, and I hope that other productions will use the talents and opportunities that exist here.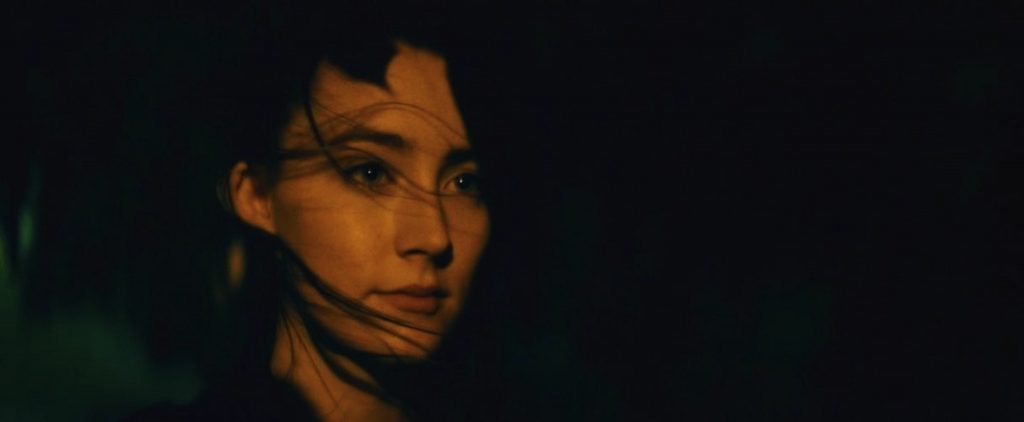 Lost River OST

Have a look below to see the official score list for the 2014 Fantasy movie, Lost River.
Film's original score composed by Johnny Jewel 
Score album tracklist:

1. Tell Me (Featuring Saoirse Ronan) – Johnny Jewel
2. Yes (Love Theme From Lost River) – Chromatics
3. Shell Game – Glass Candy
4. Echoes – Johnny Jewel
5. The Big Bad Wolf (Featuring Rob Zabrecky) – Johnny Jewel
6. Cool Water (Featuring Ben Mendelsohn) – Johnny Jewel
7. Deep Purple – Billy Ward & His Dominoes
8. Bullytown (Featuring Matt Smith) – Johnny Jewel
9. The Dead Zone – Johnny Jewel
10. Blue Moon – Chromatics
11. A Bloody Good Time (Featuring Eva Mendes & Landyn Stewart) – Johnny Jewel
12. Behind The Mask – Desire
13. Underwater – Johnny Jewel
14. Barnum's Steam Calliope (Featuring Matt Smith) – Sunset Four
15. Carousel – Johnny Jewel
16. Hope – Johnny Jewel
17. Yes (Symmetry Remix) – Chromatics
18. Deep Purple (Featuring Mary Dugan) – Larry Clinton
19. The Goddess Of Gore (Featuring Rob Zabrecky) – Johnny Jewel
20. Moliendo Café – Lucho Gatica
21. Echoes (Reprise) – Johnny Jewel
22. Ascension – Johnny Jewel
25. Tell Me (Jukebox Version) – Johnny Jewel
26. Slow Motion – Johnny Jewel
23. Spellbound – Johnny Jewel
24. Burning Houses (Featuring Reda Kateb) – Johnny Jewel
27. Communion (Featuring Rob Zabrecky) – Johnny Jewel
28. Carousel Pt. 2 – Johnny Jewel
29. Wandering – Johnny Jewel
30. Deep Purple (Reprise) – Larry Clinton
31. Reunion – Johnny Jewel
32. Death – Johnny Jewel
33. Rat, Face, & Bully (Featuring Saoirse Ronan & Matt Smith) – Johnny Jewel
34. Candlelight Burns – Johnny Jewel
35. Fossil Fuels – Johnny Jewel
36. Franky's Theme – Johnny Jewel
37. Yes (Lullaby From Lost River) – Chromatics

Tell me Lyric Sang by Saoirse Ronan

[Chorus]
Tell me I'm your baby
And you'll never leave me
Tell me that you'll kiss me
Forever

[Verse]
Whisper that you love me
That you'll never leave me
Be mine for always
I'll be yours forever

[Bridge]
Ooh, ooh
Ooh
Ooh, ooh
Ooh

[Chorus]
Tell me I'm your baby
And you'll never leave me
Tell me that you'll kiss me
Forever

[Chorus]
Tell me I'm your baby
And you'll never leave me
Tell me that you'll kiss me
Forever

[Verse]
Whisper that you love me
That you'll never leave me
Be mine for always
I'll be yours forever

[Bridge]
Ooh, ooh
Ooh
Ooh, ooh
Ooh

[Chorus]
Tell me I'm your baby
And you'll never leave me
Tell me that you'll kiss me
Forever

Lost River on socials:
LostRiverMovie.com – www.facebook.com/LostRiverMovie
Twitter / Instagram – @LostRiverMovie / #LostRiver

Lost River on IMDb
Lost River Official HD Trailer