---
Message posté par ryangoslingup
le 09 Jun 2018

Ryan Guest @ Jimmy Kimmel Live Game Night series talkin' about his upcoming project as Actor in the movie 'First Man' by Damien Chazelle and showing to the world the teaser of the movie in a very special outfit 👨‍🚀
You never know what — or who — you'll find out in space!
Ryan Gosling stars as iconic astronaut Neil Armstrong in the upcoming biopic First Man, and to celebrate the movie's first trailer, he and Jimmy Kimmel decided to head to space to chat about the film, the two stars blast off to conduct an interview unlike any other — which also includes a nod to the 2013 space film Gravity. "Look, it's George Clooney," shouts Kimmel, seated next to Gosling in full astronaut gear, as he points to a floating space suit with Clooney's face on it. "That's pretty exciting. I wouldn't imagine there would be celebrities in space,"he adds, as the two wave. "Oh, this is a lot of fun!"
Here's a bunch of Pics from the show, more in the Gallery of the website, link Below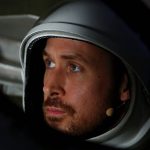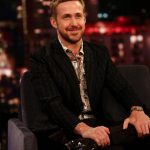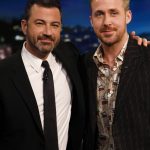 And here's a preview 🎥 of the interview. Here's the link for the streaming of the full episode.